Recipe – Gǫi Bưặi Tôm Bơ (Shrimp, Pomelo & Avocado Salad)
RECIPE OF THE SHRIMP, POMELO & AVOCADO SALAD
Imagine a warm summer afternoon surrounded by lush vegetation and a gentle breeze swaying the trees. While the golden rays of the sun embrace you, there is nothing more satisfying than enjoying a refreshing dish that perfectly captures the essence of the season. Our shrimp, pomelo and avocado salad, known as "Gǫi Bưặi Tôm Bơ" in Vietnamese, is an enticing mix of bright colors, textures and flavors that will transport your taste buds to a culinary paradise. Learn how to create this delightful dish from our Food & Beverage Manager, Mr David Castillo.
Salad
– 50g of Tiger prawns
– 150g of pomelo
– 100g of avocado
Dipping
– 2g of chili (adjust according to your spice preference)
– 5ml of vinegar
– 5ml of fish sauce
– 7g of sugar
– 1 lime
– 2ml of cooking oil
Topping
– 5g of fresh coriander leaves
– 5g of assorted fresh herbs (such as mint, Thai basil and cilantro)
– 10g of roasted peanuts
1. Prepare the ingredients
Peel the pomelo and separate the juicy segments.
Boil the tiger prawns until they turn pink. Peel, remove heads and tails, and devein.
2. Make the dressing
In a small bowl, mix 5ml of fish sauce, 5ml of vinegar, and 7g of sugar.
Add a bit of grape-seed oil and 2g of finely chopped chili.
Squeeze in the juice of half a lime.
3. Assemble the salad
Pluck 5g coriander leaves and assorted herbs. Wash and roughly chop them.
In a bowl, combine prawns, pomelo segments, and herbs.
Drizzle the dressing over and gently toss to mix.
4. Add the crunch
Roast 10g of peanuts until they are golden, then peel and crush them.
Sprinkle the crushed peanuts over the salad.
5. Enjoy your creation
Your "Gǫi Bưặi Tôm Bơ" is ready.
Each bite combines the tangy pomelo, creamy avocado, and succulent prawns with zesty dressing.
Dive into a world of flavors, savoring the delightful contrast in every mouthful.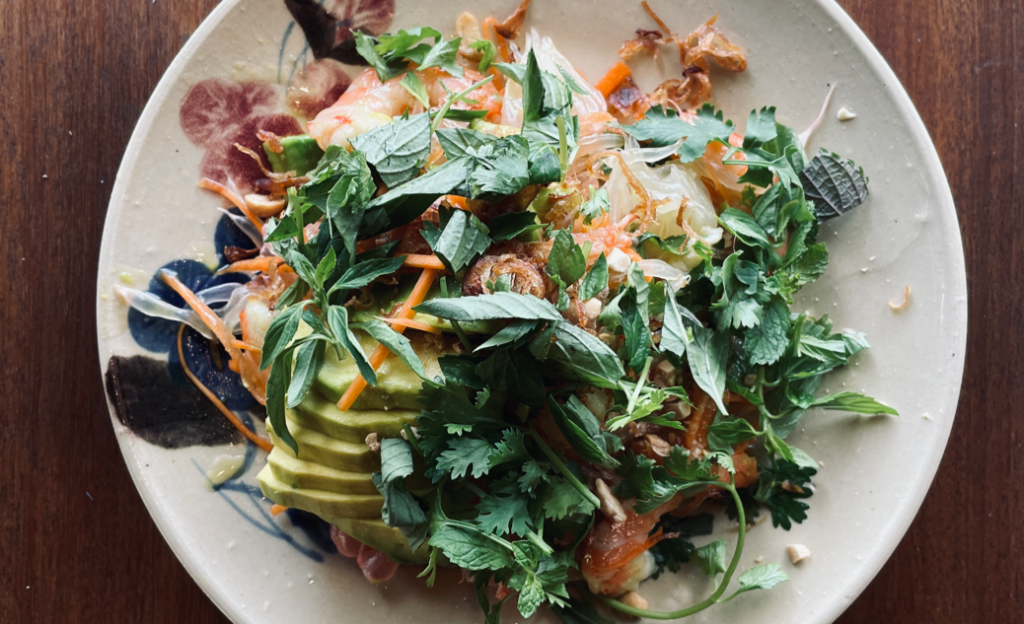 ---