Home

/

Architectural Secrets of Zannier Hotels Bãi San Hô
Architectural Secrets of Zannier Hotels Bãi San Hô
Opening on 1 December 2020 in the Phu Yen province of Central Vietnam, Zannier Hotels Bãi San Hô is the latest property from Zannier Hotels. Set within 98 hectares of ancient paddy fields, verdant hilltops and groves of bamboo and palms, the secluded resort faces a kilometre-long white powder beach and has been created to be at one with its magnificent surroundings. Drawing on the artful simplicity of Vietnamese design to reflect a contemporary vision of traditional Vietnamese architecture, Zannier Hotels Bãi San Hô provides a total immersion into this fascinating country.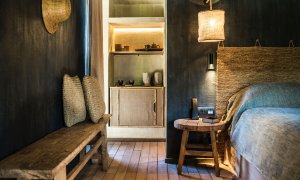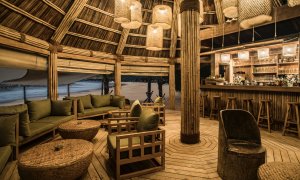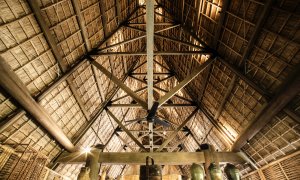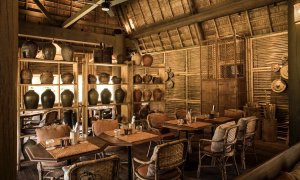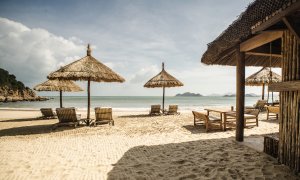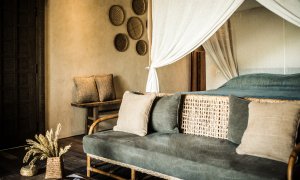 A CULTURAL APPROACH TO DESIGN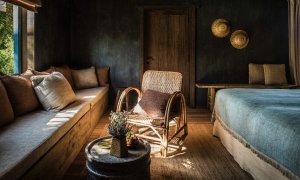 Zannier Hotels is known for its timeless design. The collection of out-of-the-ordinary properties across Namibia, Cambodia and France, not only reflect the simplicity of their natural surroundings and landscapes but tell the story of the local history and customs. Created by Zannier Hotels as a tribute to Vietnam's rich culture and history, Zannier Hotels Bãi San Hô is no exception.
With a commitment to offering a true Vietnamese experience, the brainchild behind Zannier Hotels, Arnaud Zannier spent several months travelling around the country, learning about the different ways of life, local customs and traditional construction techniques before adapting them for Zannier Hotels Bãi San Hô. Natural local materials such as wood, stone, bamboo and thatch form an integral part of the overall aesthetic, with artefacts accumulated from antique market and shops around South East Asia, adding to the resort's sense of belonging.
The resort's 73 villas are scattered along the crest of a hill and tucked into the valley below. Offering panoramic views of the sea or the dramatic hills, the villas blend into their natural surroundings, with their roofs barely visible above the tree line.
Inspiration for each of the four villa types – Paddy Field, Hill Poo, Beach Pool and Grand Bay Pool – is rooted in the Vietnamese tradition of architecture as an art form. A modern reinterpretation of the traditional abodes typically found in Vietnam's tribal cultures, the villas have been ecologically built using age-old techniques to authentically replicate different architectural styles, whilst offering a more contemporary way of living. The pared-down interiors feature natural colours and textures, with a collection of Vietnamese paintings and silk prints gracing the walls. Soft furnishings incorporate traditional materials such as raw silk, woven rattan and hessian, whilst the elegant furniture is cleverly handcrafted from reclaimed wood and bamboo.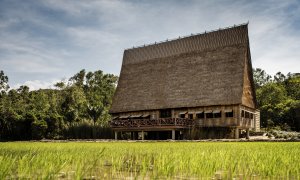 Bà Hai not only provides an authentic culinary journey through Vietnam but is a breathtaking architectural masterpiece. Overlooking rice fields, the impressive 12-metre high building is a tribute to the beautiful architecture of the communal houses found in Bahnar villages. One of the most iconic sights of Vietnam's Central Highlands, the towering communal houses sit at the heart of every village and can reach up to 30 metres in height. A place where locals can meet, solve disputes and host ceremonies and festivities; it plays an important role in village life.
Like the traditional communal houses, Bà Hai is situated in the centre of the resort and acts as a place for guests to come together to enjoy authentic Vietnamese cuisine. The towering structure is built on stilts and constructed using only grass, bamboo and wood from the Central Highlands, with the distinctive blade-shaped roof covered with thatched leaves. Inside, the extraordinary ceiling opens up to reveal the beautiful craftwork, with an intricate network of exposed wooden beams, whilst a large terrace extending over the paddy fields is an idyllic spot for alfresco dining.
You want to know more, have a comment or a question? Free free to get in touch with us and contact Quentin GUIRAUD, Head of Communications: qguiraud@zannier.com / +32 (0)472 05 57 19.
---