Zannier Hotels Bai San Hô
Located in Phu Yen (Vietnam) on a 98-hectares of garden, close to Quy Nhon, Zannier Hotels Bãi San Hô is a first-rate holiday resort that opened on December 1st 2020. Surrounded by spectacular hills and lush vegetation, this discrete peninsula lies far away from the mainstream tourist paths, in the province of Phu Yen, standing out with its soul and historical authenticity. The untouched and well-protected coastline unmasks an impressive coral bay.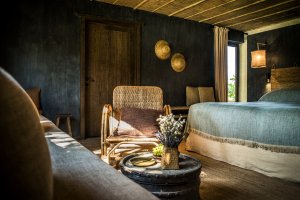 The luxurious resort is composed of 73 suites & villas, built according to three different architectural styles, each of them melting into the lush natural background. The "Hill Pool Villas" and "Grand Bau Pool Villas" are reminiscent of Eden tribes, "Beach Pool Villas" evoke the Cham tribes and the "Paddy Fields Villas", lying next to the rice paddies, are built on traditional stilts.
With 3 restaurants and 2 bars set in different atmospheres, Zannier Hotels Bãi San Hô turns every stay into a culinary voyage. Fresh, varied and healthy food are the common points of those outlets, serving respectively international, Vietnamese and seafood cuisine.
Beside the several gastronomic experiences, Zannier Hotels Bãi San Hô offers a wide variety of beach and water activities and other outings. To the north-end of the white sand beach, beside the coral bay, the aquatic hotspot and the port are the ideal location for many water-based activities ranging from a simple swim in the blue waters to snorkelling, fishing, surfing, water skiing or canoeing.
Guest can also enjoy recreational activities with the fitness room open 24/7, the yoga studio and tennis & padel courts offering offers both individual and group lessons. For more relaxing activities, an outstanding spa area includes seven treatment rooms, a relaxation zone, a hammam, a sauna and a panoramic infinity pool. Zannier Hotels Bãi San Hô also features several private rooms and a kids club.